The Pre-Stressing Difference
This simple system of wire rope and connectors pre-stress the wood structure. Because the rope wire stretches ... it can be "pre-stressed" to produce zero movement and compensate for wood shrinkage!
Shrinkage and movement are a common problem with the old methods of straps and threaded rods - they're installed before the structure is loaded.
When the building is exposed to the dead loads and wind, deflections develop in these products due to shrinkage and compression loads which create a "loose" load path to the foundation.
Loose structural joints allow movement which, in turn, causes the building to be "pulled apart" until these parts fail.
Quick Ties are flexible and elastic, and by pre-stressing to desired wind load, there will be zero movement until the force applied reaches the pre-stressed load limit. The Quick Tie wire rope system is easy to inspect. If there is a problem, it will be detected at installation!
Structural Technology installers are factory certified.


All structures are site specific designed with sealed engineer plans.


Fast, efficent, no waste, and no excess supplies to inventory.


STBB employees are fully insured.


STBB handles all of the NW Florida Panhandle.


Installation costs are competitive with old anchoring methods!
Installing the Quick Tie™ System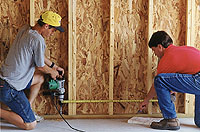 Measuring cable lay-out -- determined by the wind load and trusses uplift values at the top plate.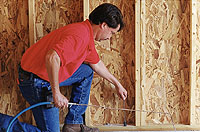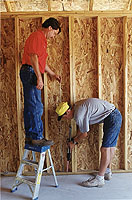 Drill top and bottom plates, concrete foundation. Prepare concrete hole for epoxy application, and imbed pre-measured cable.
Tighten galvanized steel cable, install neccessary header strapping and truss clips -- then you are done and ready for inspection!